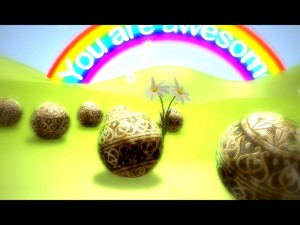 To my surprise, I managed to clear all of Puzzle Dimension's Achievements on finishing the game. You may recall my doubts that I'd reach a total score of 50000 points, as one of the Achievements requires. Going into the final level, I was more than 2000 points short of that, about four times as much as I expect to get in a typical level. But the final level wasn't typical. It was one of those puzzle-game final levels that recapitulates everything you've learned, and that means it was large, and that means it wasn't hard to get my bonus multiplier up to the maxiumum of 32x just by roaming around before I started trying to solve it.
I have to say, finishing this game produces the sense of epic accomplishment a lot better than anything else I've been playing lately. At least it does for me. I'm not sure what it is. There's a mental phenomenon that I think most hardcore gamers are familiar with: the sense of waking up from a game. (Probably the best descriptions I've seen of this are those in the novel The Player of Games by Iain Banks.) After an absorbing multi-hour session, your mind is in an altered state; if you've just beat the end boss, that state is probably at its most intense. And that's exactly the moment when you stop playing, so the contrast, as you stand up and become aware of reality again, is quite noticeable. I feel like I've talked about otherworlds in games a lot lately, things that take the place of the spirit world of the shamans. But viewed from outside, games themselves are otherworlds, and single-minded focus on playing is a kind of trance.
Anyway, emerging from the end of Puzzle Dimension produces something of that effect, which is a little strange, considering that I haven't been playing it in intensive multi-hour sessions. Possibly it's just the unfamiliarity of the form. I can play a text adventure or FPS and experience it as just another text adventure or FPS. But Puzzle Dimension asks us to flex mental muscles that don't get a lot of use — specifically, keeping three-dimensional objects straight in your head without a consistent sense of gravity to orient yourself by.