The poll results are as follows:
Genre: Adventure, with RPG a close second.
Release date: 1986-2002, due to a tie.
Middling obscurity. Adventures skew obscure, so this essentially means the least obscure titles I have left.
No strong expectations as to quality.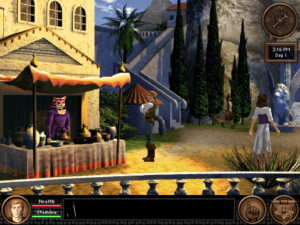 Dragon Fire seems like it fits the bill pretty well. It's the final episode of a prominent series of adventure/RPG hybrids from Sierra. It's also one of the final generation of Sierra games, when they tried to stave off the reaper with experiments in 3D. Unlike their 2D games (ironically designated "3D animated adventures"), Sierra's 3D adventures all seem to have had different engines and user interfaces: King's Quest 8 was kind of Tomb Raider-like. Gabriel Knight 3 seems to be a first-person clue-hunting game reminiscent of the Tex Murphy games. Quest for Glory V is actually pretty close to the traditional 2D games; it uses 3D models for the characters, but it's otherwise basically a point-and-click adventure game.
The Quest for Glory series was originally planned as a four-part story, with a system of correspondences to the elements and the cardinal directions and so forth, although the authors broke this by inserting an unplanned episode after the second. After episode 4, the series was cancelled, leaving the story without its planned ending. I was disappointed at this development at the time, but I got over it. So over it, in fact, that when they decided, years later, to do the fifth game after all, I didn't have the same enthusiasm for the series. I bought it in due course, and tried it out just enough to be put off by the voice acting and the need to learn a new and non-obvious UI, and now here it is almost ten years later. This kind of thing is the reason I have the Stack in the first place.
There were some installation problems: the Quicktime 3 cutscenes didn't work until I installed a fan-made patch. Thank goodness for fans who care enough to make patches! Even then, I had some problems with the sound popping, as if the software was breaking the audio data into pieces and then starting each piece a fraction of a second too soon. A forum suggested adjusting my sound card's acceleration, and that worked. I'll have to remember that solution; I have other old games that have the same problem. The graphics have the rough look of early 3D, the days of 640×480 software mode with no antialiasing. Distant objects are noticably distorted by the size of their pixels, but I'll get used to it.
More on plot and gameplay tomorrow.