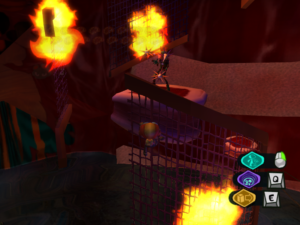 The final level of Psychonauts is called "Meat Circus", a fusion of the inner landscapes of Raz, whose father is a circus acrobat (explaining where he gets his platforming skills from in true Schafer fashion), and another character whose father is a butcher. Now, most of the things I had heard about this game in advance were positive, but this is the one segment that I had heard complaints about. "Too hard" was the consensus. One person described giving up at this point despite being nearly finished with the game.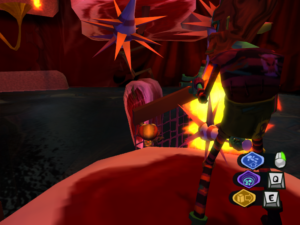 Having played it now, I can assert that it isn't even the entirety of the Meat Circus that's so hard. It's one particular segment of it, in a section where you have to keep climbing faster than a steadily-rising water level: a part that involves jumping between a series of curved segments of climbable mesh, partly on fire. I spent some time unable to clear the second gap at all, until I hit on an approach that turned it from seemingly impossible to merely difficult. The mesh pieces basically form a cylinder, and you leap onto this cylinder from the outside, but jumping from piece to piece turns out to be much easier if you can do it from the inside. It's tricky to get there, and once you're there a large part of the view is blocked by the level boss (Raz's father, or rather, Raz's fear of his father), but it's still the easier approach. Talking about it with others afterwards, it seems I'm the only one who did it this way. So apparently it is, in fact, possible to make all the jumps on the outside, but I seriously wonder if the level designer intended it to be possible.
One really nice thing about the final world is the way that it ties together and explains some of the things that you saw on previous levels, things that just seemed like dreamlike randomness at the time but turn out to reflect a backstory that you didn't know yet. It reminds me a little of the Silent Hill games in that respect, except with cartoonish zaniness replacing the creeping sense of dread and unease.
But not replacing it entirely. Psychonauts is a game about brains, and that's not a comfortable subject, especially when the brains are being literally sneezed out, carried around loose in a backpack, and later reinserted with a funnel. I've quipped before that the reason we make jokes about brains is that we're afraid of them, and when you think about it, there's actually some truth to that. Not that we're afraid of brains per se, but we're afraid of what the idea of brains tells us: that your consciousness, your personality, everything you are is determined by a lump of meat, physically vulnerable, alterable by drugs or disease. It's a queasy thing to think about, and Psychonauts harps on it from the very first words of the opening scene:
The Human Mind: 600 miles of synaptic fiber, five and a half ounces of cranial fluid, 1500 grams of complex neural matter… a three-pound pile of dreams.