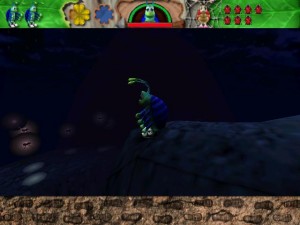 Well, I've given a good solid explore to Bugdom's level 8 (out of 10), a place of rocky crags and steep defiles and occasional acid pools. I anticipated my latest session also being my last, seeing how I often give an extra push towards completion when I get close enough to smell it, but level 8 defeated this aim, mainly by being so darned large. Size is kind of important to the way this game produces difficulty: by putting more stuff between you and your goals. Not necessarily harder stuff, just more of it. If you mess up and let yourself get hit by one spear-wielding ant in ten, then a hundred ants will hit you ten times, which is probably enough to kill you. It should be understood that, although most enemies are killable, you receive no benefit for killing them other than not having to deal with them any more. Killing doesn't even score you points. So the game as a whole is tilted somewhat towards running away from things, but all the moreso on this level, where it would take so long to make a significant dent in the forces arrayed against you.
I suppose it's all another nudge to use the curl-up-and-zoom feature, whether to zoom past enemies or to bowl into them for quick damage. Kicking enemies to death just takes too long to be practical when the enemies are clustered together in large groups. Understand that your basic spear-carrier ant has to be kicked three times before it stays down, that it's temporarily invulnerable while it recovers from each kick, so even killing an isolated foe takes a while. In addition, the kick animation rather awkwardly locks you in place for the second or so it takes to run fully, leaving you vulnerable to any other attackers in the vicinity. It's all part of what gives the game the sense of clumsiness I noted in my first post.
The other notable thing about level 8 is that it takes place at night. I don't think this actually has any effect on visibility — the clipping plane is pretty close to the camera throughout the game — but it seems like you can't see as much because the distances are greater. I mean, on the smaller levels, you can often see all the way to the far wall of whatever area you're in, making the exact range of visibility irrelevant. As such, you can actually typically see farther in the darkness of level 8. So the darkness is mostly stylistic. As is often the case in videogames, the first level is sunny and green, and the environments get darker and more threatening as you enter the den of evil at the end.
Plus, darkness shows off the fire better. This level introduces fire-breathing enemies (they're fire ants, get it?), and you can often see them as spots of glow on the horizon before you can make out the ant behind it. Especially if you're subject to the glitch I've been experiencing here. On my machine, fire can be seen through otherwise-opaque walls, which can be quite disorienting. I assume that the Mac version didn't have this problem, but honestly I have no idea.