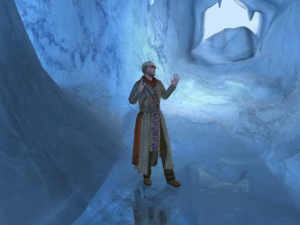 So, with my faulty video card replaced, I've finally got Myst V: End of Ages running at a reasonable framerate. I've explored enough of the hub to gain access to all four of the other "ages", of which I've delved into two and completed one.
The story is basically about a struggle between Yeesha and Esher, with the player caught in the middle: for some unexplained reason, I'm the only one who can draw this legendary Tablet from its housing like Excalibur from the stone, and they both have ideas about what I should do with its great but unspecified power once I do so. As a Myst veteran, I know full well that when two people both want me on their side, I shouldn't trust either of them. But it isn't as symmetric as Sirrus and Achenar here. For one thing, Esher is actually trying to help me. He knows his way around the quest, having been on it himself at one point, and he comes by to talk more or less every time I've made a bit of progress. Yeesha only appeared at the beginning: her point of view is mainy represented through scattered journal entries (a device that's surely passé by now). And in contrast to Yeesha's vague and self-absorbed poeticalisms, Esher says practical things like "You will not be able to continue downward without providing fresh air to the tunnels." Yeesha, at the end of her introductory spiel, actually had the gall to say "What you still don't understand you have failed to hear or don't need to know." She's actually blaming me for her inability to communicate clearly!
So, yeah, I'd be a lot more sympathetic towards Esher than towards Yeesha if it weren't for the fact that he's a jerk. He's constantly badmouthing Yeesha in a sleazy effort to get me on his side. A lot of what he says is stuff I've said myself — complaints about her vagueness and self-importance — but it's sleazy anyway. Plus he also seems to hate her for her ancestry more than for any other reason, being the great-granddaughter of the woman who destroyed D'ni. Also, he's contemptuous of the Bahro, the beings I know from Uru as "the Least". In Uru, there's a whole plot about how the D'ni enslaved the Least for their inherent ability to "link", to make the connection to other worlds, and there's an epiphany moment when it's made clear that the Least and the apelike creatures that lurk in dark places and make disquieting noises are, in fact, the same thing. Yeesha supports Bahro rights, but Esher thinks they're primitive, unclean things and that the D'ni had the right idea. In fact, Esher seems to be generally gung-ho about restoring D'ni civilization without learning any lessons from what happened to it.
All of the above is heavy with referenes to Myst continuity, including things from the novels. I assume there's disagreement on this, but I regard this as a weakness. The more we learn about D'ni history, the easier it is to mentally classify it as just another fantasy world instead of something strange and unique. This series may be ending at just the right time.