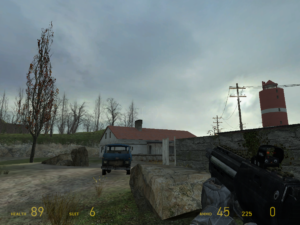 It turns out that Half-Life 2 does have a lot of open-air scenes after all. It's also a very linear game, but the line varies in thickness: sometimes you'll be out driving a vehicle (I've used a fanboat and a dune buggy so far, both of which look like they're made of scrap metal), with a large area around you to do wide turns in, and suddenly your path will be blocked by a gate that can only be removed by throwing a switch inside a nearby building at the end of some small rooms and twisty hallways.
When you're outside, the game does its best to give an impression that the environment is larger than it actually is, and that you have more options than you actually have. Obviously it isn't just FPS games that try to do this: adventures have been creating the illusion of rooms just out of your reach since the intro to Planetfall. What it means in Half-Life 2 is that attempts at exploring the periphery loop back fairly quickly, and the game takes advantage of the beefiness of its graphics engine to render unreachable scenery objects in full detail out to a considerable distance. I haven't encountered the "invisible wall" effect found in many other games, constraining you when you stray from the path by halting your forward movement for no obvious physical reason, but there are lots of places that look like they're passable until you're very close, at which point it's clear that the slope is too steep or the gap is too wide or whatever.
It reminds me of a landscaping technique sometimes called a "ha-ha". A ha-ha is essentially an inconspicuous ditch or drop-off with a retaining wall. The idea is that it gives you a seemingly-continuous view from your manor window of verdant pastures unmarred by fences, but still keeps the cattle off your croquet lawn.
But, although the player's view in Half-Life 2 is the illusory continuity seen from the manor house, you're not on the high ground. The ha-ha is there to limit you. Thus, the level designers of Half-Life 2 treat the players like cattle.