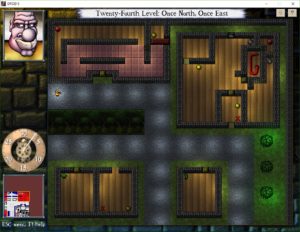 Despite being basically plotless, King Dugan's Dungeon manages to anticipate the story of the sequels in its last couple of levels. Level 24's theme is that it's a city of monsters, or at any rate an imitation of a city with some monsters squatting in it. It's not the city from The City Beneath, but it's certainly a city beneath, and may even have been intended by its creator as a substitute for the real thing.
That creator is called the "Neather". He's essentially KDD's end boss, and another big part of how the game anticipates the story to come. Before the sequels, the Neather was the only human presence in the dungeon besides the player, and the only other being with the ability to trigger the orbs that open and close doors. Throughout level 25, he uses this to manipulate the environment from inaccessible control rooms, cutting off paths you want to take and letting monsters out at inconvenient moments. In other words, he's a symbol for the game designer. This makes it seem significant that so many of the puzzles here end with the player breaking into his control area, causing him to flee to the next room. The game is basically telling you that when you're done with everything else, your job is to take the designer's place — and certainly a great many DROD fans have taken that to heart, producing their own Holds.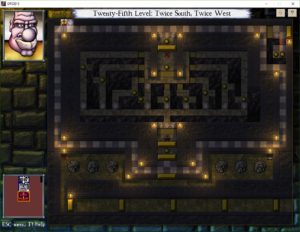 I said before that one of DROD's strengths is that everything, even an enemy, is potentially useful in the right circumstances. Even the Neather? Yes. There's one room that can only be passed as a sort of team effort, as both you and the Neather take turns letting each other through a cycle of doors. I mean, it's still fundamentally antagonistic: there's a choice of paths within that cycle, and the Neather tries to choose paths that will prevent you from escaping the room along with him. It amounts to a two-player mini-game.
In the end, you have to kill the Neather. The puzzle content forces it, and even at the level of story, it's arguably a necessary part of killing everything in the dungeon to fulfill Beethro's contract with King Dugan. And it's an uncomfortable moment, for several reasons. First, it's clearly murder. The current version of the game muddies the distinction between murder and monster-slaying a bit by giving some of the goblins lines of dialogue, but generally speaking, you spend this game squishing mindless bugs, not people. Secondly, there's some implication (in a post-game epilogue, although I think it might have been mentioned in the docs in earlier versions) that the Neather is actually King Dugan's lost son, who crawled into the dungeon as an infant and was never seen again. So Dugan is unknowingly paying you to kill his own kin. Then there's the business of Beethro's nephew Halph, who shows up as an NPC in the sequels. Halph has an affinity for monsters: they don't attack him, just as they don't attack the Neather. I haven't yet seen where they take this in The Second Sky, but there's a strong implication that Halph is basically becoming a new Neather over the course of the next two games. If, to Beethro, Neathers are monsters, worthy only of slaughter, what does that mean for his own kin? Finally, just in case you're not already thinking of this killing as a matter worth stopping to think about, the game goes and pops up a confirmation prompt when you try to kill the Neather. It's not a real choice; you can't finish the game without killing him. It just gives you pause and maybe makes you stop and look for another way, a way that involves sparing him and bringing him back to the surface with you. In which case you have to give up, tainting your victory with defeat.