So, in my last post about Zanzarah, I described a situation where I had to fight a team of Dark and Chaos fairies simultaneously. I had fairies that are strong against Dark and fairies that are strong against Chaos, but nothing that's strong against both at once. In theory, I could use a Water fairy to take out the few Dark ones 1Or one. There seems to be some randomization in the battle; the last time I tried it, only one was Dark. This didn't help. and then swap in a Nature or Air fairy to take care of the rest, but since Chaos is strong against Water, this generally just meant my fairy would die before it could make an impact. Ideally I needed a Light fairy, but there weren't any available. (And yes, I spent some time revisiting old haunts just in case there was something I had neglected.) So I finally did the next-best thing: I equipped a Water fairy with an offensive Light spell 2Not only are you allowed to purchase spells that you can't use yet, it's generally a good idea to do so. That way, when you suddenly get your first fairy in a new element, you can immediately hook it up with better stuff., capable of killing any of these foes with one or two blasts. The Chaos fairies could still damage it, but they could no longer do so faster than it could damage them.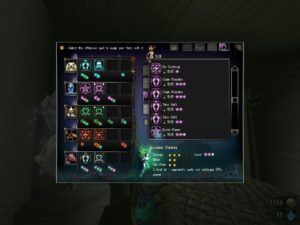 Now, for most fairies, this would be impossible. Most fairies can only use spells of their own element. It's actually a bit more complicated than that, though. Every spell description has up to three colored spots on it, with the color indicating an element, and the number of spots indicating what we can think of as the spell's level. The UI for assigning spells likewise puts a number of colored spots under each spell slot, indicating what that slot can take. (That number can be zero, indicating that the slot is not yet usable.) At least one of these spots will always be the fairy's element, but sometimes the second and/or third slot will be a different color, or even rainbow-colored, indicating that it will accomodate any element. (It took me a while to figure this out, because the rainbow really looks mostly green.) So, for example, the water fairy I used in this battle had a slot with one blue (Water) slot and two rainbow slots, so I could equip it with a level-3 Water spell or a level-2 spell of any sort whatsoever. Some spells even require this sort of thing, as they contain spots of two different colors.
Spells and spell slots come in two sorts: attack spells (indicated by circular spots), which are activated in combat with the left mouse button, and passive spells (square spots), which are either always active, or trigger automatically under some condition (usually getting hit). At any moment, a fairy can have at most one attack spell and one passive spell in use, but it can have a secondary bank prepared (also containing an attack spell and a passive spell) and switch to that bank during combat. (This is something I haven't really taken advantage of, but I suspect I'll need to as the battles grow longer.) Thus, each fairy has four spell slots. Typically, a fairy will start with a capacity of just one level-one attack spell, and gain extra spots as its level increases. But the progression is different from species to species: a particular sort might grow its passive slots faster than its attack slots, or get to level 3 in bank 1 while bank 2 is still unavailable, or get rainbow spots in compensation for gaining them slower.
The interesting thing about this is what happens when a fairy changes type. In Pokémon, evolving your creatures was pretty much entirely positive, except that the evolved form would usually level more slowly, a penalty that Zanzarah seems to have preserved. But in Zanzarah, the spell slot progression can change completely when a fairy evolves. For example, the trick that I used with the water fairy? I can't do it any more. It gained enough experience from that one battle to evolve into a new form, one that doesn't have any rainbow slots. Suddenly, the "cancel evolution" option seems like it could be worthwhile sometimes.
Fortunately, as anticipated, I acquired a Light fairy in the immediate aftermath of that battle, and thus had another outlet for Light spells.
Unfortunately, I had to immediately trade it away to progress in the story. So it goes.
| | | |
| --- | --- | --- |
| 1. | ↑ | Or one. There seems to be some randomization in the battle; the last time I tried it, only one was Dark. This didn't help. |
| 2. | ↑ | Not only are you allowed to purchase spells that you can't use yet, it's generally a good idea to do so. That way, when you suddenly get your first fairy in a new element, you can immediately hook it up with better stuff. |