Finally, some movement in the main plot! I've recovered de Peuple's will (only to have it stolen by a highwayman almost immediately), and I've actually met Cardinal de Guise, who's definitely a baddie and definitely behind the murder. De Peuple's castle, it seems, is crucial to his plans to wipe out the Protestants once and for all. Geoffroi himself is displaying signs of dramatic irony at this point, reverting to almost willful idiocy as he fails to put two and two together, lest the knowledge threaten his sense of loyalty to power.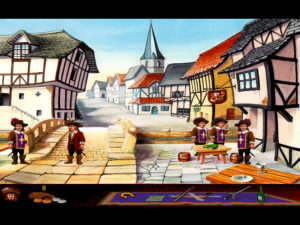 I think it's worth describing the sticking-point I just passed and how I came unstuck. It was, of course, a matter of a missed clickable — in this case, an entire church. It was nestled into the background of the sole exterior view of St. Quentin, where it blended into the skyline so well that I didn't even think to check it for interactivity. A conversation inside the tavern, however, yields the tidbit "Did you know that the famous Cardinal de Guise is here in St. Quentin?", in response to which you can ask where you can find him and be told that he was last seen heading to the church. I had heard that dialogue before, but didn't think it was immediately useful, because (a) I had no real reason to be looking for the Cardinal yet, and (b) it seemed like I'd have to do something about the roadblock before I could really explore the city. It was only after seeing the information again after noting on this blog that I had been to places of worship in only three of the four cities I had visited that it stood out for me enough to remain on my mind when I left the tavern and noticed the steeple in the background. Maybe I shouldn't be criticizing Geoffroi's intelligence.
Also, maybe I should take notes more. Note-taking and mapping used to be a crucial part of the adventure-game experience, back in the early days, but today's sensibility is that they shouldn't be necessary. Monkey Island was a huge step in that direction, putting overland maps into the game and making sure all crucial dialogue was repeatable. Touché! is definitely post-Monkey Island, and has much the same approach, but it's also large and complicated enough that I find myself forgetting stuff unless I reflect on it here.