A Monster's Expedition reminded me enough of Stephen's Sausage Roll that I had to pull it out and give it another try, starting over from the beginning and hoping to finish it this time. And playing the one right after the other, it's striking how vastly different their attitudes are. AME is the "good twin" here, all gentle and welcoming. SSR wants to make you uncomfortable. Suspiciously tinkly music that occasionally goes discordant, noisy and unclear textures, weird movement rules — in AME, pressing an arrow key always just attempts to move you in that direction, but in SSR, what it does depends on your orientation. Even after playing for most of a day, I still spend a lot of my time fruitlessly pivoting in place.
And when you do move, you have to be careful to avoid smacking sausages into the wrong place with your fork, because you take up two tiles and it's awkward. The easiest way to avoid trouble is to walk backwards most of the time. You can't just walk up to a ladder and climb it, because you can't reach it past your fork; you have to back up to it, then turn and climb it sideways. Once you're at the top of the ladder, the controls make it impossible to turn to face it, because pressing in that direction will just make you climb back down. An inadvertant flaw? No: there are puzzles based around it. I'd complain about the controls a lot more if I didn't think they were deliberately alienating.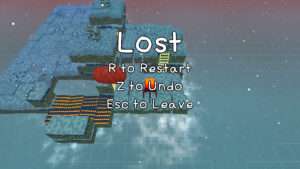 And when you make a mistake, you can explicitly fail. Burning a sausage, or knocking it off the island, results in a big failure message and the necessity of undoing or resetting the puzzle (although I notice that you can keep on playing while the message is up). AME never did that. That is, it's certainly possible to render a puzzle unsolvable in AME, but it never tells you that you failed.