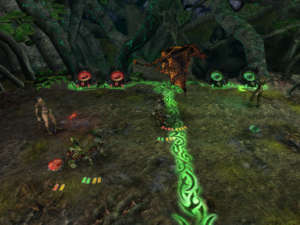 In writing about Etherlords, and before that about Puzzle Quest, I made mention of how much they drew from Magic: The Gathering. Well, there's one sort of game you'd really expect to draw from M:tG, it's a game specifically based on the M:tG license. There have been several.
The most straightforward adaptation is undoubtedly Magic: the Gathering Online, which is exactly what it sounds like: a system for playing M:tG against other humans over the internet. Before that, there was a single-player RPG-like title, called simply Magic: the Gathering, that used straightforward M:tG duels for combat, and before that there was Battlemage 1Or, more fully, Magic: the Gathering — Battlemage. It seems to me that Richard Garfield kind of painted himself into a corner with respect to names for derivative properties. "Magic" is a generic enough word that you really need the subtitle "the Gathering" there to positively identify the franchise, which results in these multiply-subtitled derivatives. I don't know what I'm going to do about naming these blog posts., a realtime variant.
Since M:tG itself is about as realtime as chess, Battlemage was a quite loose adaptation, and perhaps better described as an action game inspired by M:tG. It kept the basic notion of a duel between wizards who summon monsters at each other, and a mechanic of regenerating mana, but the mere fact that it was realtime changed the character of the game fundamentally, and not for the better, in my opinion. Where M:tG is essentially about showing off how clever you are, the hectic pace of Battlemage basically prevented me from thinking while playing it. As I remember it, my mind was mostly occupied with trying to remember how to use its user interface, which seemed unbelievably awkward to me for time-constrained use, ignoring obvious mechanisms, such as using the mouse to select spells, in favor of paging through lists with the arrow keys. (I didn't understand this at the time, but the whole UI was just a minimal conversion of the Playstation version.)
Battlegrounds, released in 2003, was the last attempt at a new M:tG-based title. It's essentially a remake of Battlemage. This isn't obvious at first, because the presentation is so different — Battlemage used an overhead 2D view and a largish scrolling map (probably intended to give the player time to react to the opponent's summons, but it also had the effect that you never knew what was going on outside of your current window), while Battlegrounds has a smallish side-viewed 3D arena more reminiscent of a fighting game like Mortal Kombat, or possibly tennis. But it's still realtime and hectic, and the whole thing is obviously designed around the PS2 controller, even in the PC version.
Maybe I'm mellowing, but it seems to me that Battlegrounds is more successful than Battlemage was. Duels are typically over with quickly, one way or another, and seem to be turning puzzle-like — you may not have time to think during a battle, but you can certainly devise tactics between times. However, it's definitely not as faithful to M:tG as Etherlords.
| | | |
| --- | --- | --- |
| 1. | ↑ | Or, more fully, Magic: the Gathering — Battlemage. It seems to me that Richard Garfield kind of painted himself into a corner with respect to names for derivative properties. "Magic" is a generic enough word that you really need the subtitle "the Gathering" there to positively identify the franchise, which results in these multiply-subtitled derivatives. I don't know what I'm going to do about naming these blog posts. |