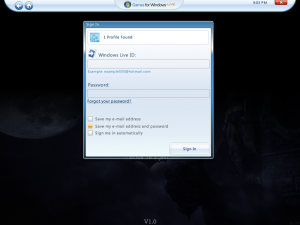 My story today beings with annoyance. Having downloaded Batman: Arkham Asylum from Steam, I found that it wouldn't let me play (or at least, wouldn't let me save the game, which is pretty essential in a game like this) until I registered for a Games for Windows Live account — something I've managed to avoid doing so far solely through my taste in games. Once I did that, it needed to download a Games for Windows Live update. Installing the update required me to exit the game and restart it, sit through the uninterruptible logo movies (including one for nVidia, even though I have an ATI graphics card installed) and log into Games for Windows Live again (even though I had checked the "log in automatically" checkbox — I'm guessing that the update reset that), at which point I was told that I needed to install another Games for Windows Live update. I had to go through this cycle something like five times before it let me play the game. I almost gave up and hit the support forums, because there was no clear indication that it was actually making any progress. For all I knew, it might have been downloading the same update every time. At least it never went as far as to make good on its warning that it might have to restart the machine.
Since Microsoft has recently been making noises about turning Games for Windows Live into a viable iPhone-like app store that can compete with Steam, it's worth noting how much worse this experience was than my first Steam experience. Back then, I wanted a particular game, and retail had failed me as a way to obtain it. So, Steam was my rescuer. I downloaded the latest client, and it gave me access to what I desired. Games for Windows Live, on the other hand, I first experienced as an obstacle. The only reason I sat through those updates was that it was holding my game hostage — the game I had already installed, which is not enhanced in any significant way by such a pairing. (It provides leaderboards, which I have no interest in, and achievements, which might as well be completely local for all I care.) I suppose that someone who bought the Orange Box on physical media might have a similar experience with Steam, but even then, my experience with Steam updates is that they're much more polite than the "You must download this and restart the game now and not ask why" found here, more like "I've just finished downloading this. May I have permission to install it? No rush, I can do it later if you prefer. Here's the changelog, if you want it." Or consider the business of the "CD key". The game is set up to require such a key the first time you run it, even though I'm playing without a CD. Steam is kind enough to provide this key, both on request and automatically when you run the game for the first time, in a nice dialog box with a button just for copying it to your clipboard, so you can just paste it in when the game requests it. And this works when the game requests it, but Game for Windows Live redundantly demanded it as well, and required me to enter it into four separate text fields, breaking copy-and-paste. At this point it seems like it's just being ornery. Steam wants my experience to be a pleasant one; Games for Windows Live wants to throw its weight around.
Now, Arkham Asylum is a port of a console game, and one of the things I'm interested in learning from it is how it managed the translation of the controls to the PC. I'll go into more detail later, when I've seen more of the game's mechanics and can give a more complete report, but for now, let me just say that, although the game can be played fully with mouse and keyboard, it really wants a gamepad. Fortunately, I have my trusty Dualshock Controller for PS2 and third-party USB adapter! Unfortunately, the game is only willing to recognize an actual Xbox controller. This is not a matter of technical incompatibility: my controller is supported by DirectX and recognized by various other console-to-PC ports. Furthermore, as far as I can tell, it's exactly equivalent to an Xbox controller in its capabilities, and could probably even masquerade as one with sufficient hackery. I personally don't need to take things that far, because I have access to an Xbox controller that I can borrow for a while. But it's still another unnecessary annoyance.
It all really seems to come down to one thing: Microsoft feels like it should have control over my machine. It was their ability to function as part of a system with open standards, an environment in which anyone could create software or even hardware, that initially gave Microsoft their dominant market position, but, having achieved such dominance, they have developed a taste for dominating. The Xbox comes a lot closer to their ideal than the PC does: a locked-down system where every title has to meet stringent certification requirements, many of which have more to do with helping Microsoft push the Xbox brand than with making the game better for the player. They must be really jealous of Apple's ability to get away with this stuff without losing the goodwill of their customers.
Next post, I'll talk about the game a little. But I may return to grumbling when SecuROM decides to take its turn at being a dick.