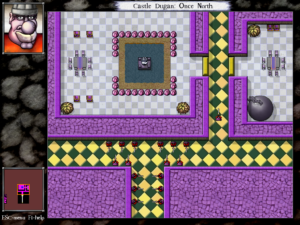 Let's make one thing clear: DROD is fundamentally a bag of puzzle-rooms. It's got aspects of narrative and world-building, but they exist as a frame for the puzzles, and are wholly subordinate to them — for example, the gameworld is full of gates that only open after all the monsters in the room have been killed, even in areas that aren't in dungeons. This makes no sense in the world or the story, but the game trumps them both. Still, the story isn't just appended to the game (in this episode, anyway). The story complements the game, providing a rationale for game elements.
For example, I've just been through a part where Beethro briefly returns to the kingdom of Dugandy. Through the machinations of the Empire's agents, Beethro is a wanted man, a suspected traitor to his own king. So, sneaking into a guardhouse (a rare stealth segment — Beethro doesn't want to kill his own countrymen), he steals a guard's uniform to use as a disguise. It turns out to be a very successful disguise indeed: while he has it on, the monsters in the dungeons won't attack him first. Once Beethro makes an attack, everything charges. This temporary change to the basic rules of the game is the basis for a set of puzzle rooms, ones that can only be solved by not initiating combat immediately.
Was the puzzle sequence inspired by the story, or was the story invented as an explanation for the puzzles? Probably a little of both, but the game gets more out of it than the story does.
On a smaller scale, though, narrative influences puzzle content all the time. I remember reading an essay by one of the designers, giving advice on how to make homebrew DROD levels. I wish I could find that essay now; I'd link to it here. The gist of it, though, was designing puzzles as stories, coming up with a description of the intended player experience before sitting down with the level editor. Things along the lines of, "The player walks into the room and sees roach queens 1The most basic monsters in DROD are the giant cockroaches, which just charge at you in a straight line. Roach queens are roach generators. They flee before Beethro and create new cockroaches after every 30 moves. in every corner, positioned behind force arrows where they're inaccessible. At first, this seems impossible: the player can't reach the queens to slay them. Then the player notices…"
Good advice or bad? All I can say is that it seems to have worked pretty well here.