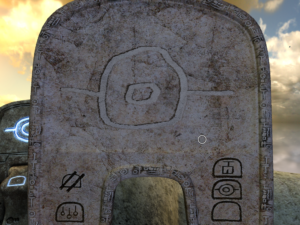 Myst V does a couple of novel things with the user interface. For one thing, it gives you a choice of what UI you want to use. First-person adventure games have basically gone through three stages. First there's the static view: the camera is fixed in place, and you click hotspots to move and turn. Then there's panning views: you click hotspots to move, so there's a finite set of nodes you can move between, but turning is continuous, controlled by the mouse in some way. Finally, there's full continuous 3D movement, like in a first-person shooter — something not done often in adventures, but it has been done. Myst V supports all three modes.
One might reasonably ask why. "Classic" mode was, after all, originally a product of technological limitations. Myst is made of a bunch of still images stitched together. Myst V is not. So why pretend that it is? I suppose that some people just prefer to play that way. I generally prefer "Advanced" mode — full 3D movement — because the ability to look at things from arbitrary angles aids comprehension. (One of my biggest problems in Myst IV was finding movement hotspots in outdoor areas.) But in fact I have occasionally switched to "Classic" mode when in difficulty, because the hotspots can act as a sort of guide. If there's someting important, there's probably a spot you can click that makes you look straight at it.
It's worth noting that, even in free-movement mode, you use the old-style interface to climb ladders. I don't just mean that you click on the ladder to climb it, I mean that you click on the ladder twice: once to look at the ladder and automatically shift into "Classic" mode, and once to climb it. It seems unlikely that it would have been designed this way if the designers had been thinking primarily in terms of free movement.
The other major UI experiment is the drawing interface. Each of the four main sub-worlds features a slate that you use to give instructions to the Bahro. You do this by drawing shapes with the mouse. It's a reminiscent of the "gestural" interfaces used in Black & White and early versions of Darwinia before the designers realized how difficult and annoying it was. It's a bit different here, though, because you don't have to (and in most cases can't) draw the shapes in a single continuous stroke, which lessens the annoyance factor somewhat. But it's tricky to draw with a mouse — especially if, like me, you normally use a trackball for games 1A Logitech Cordless Optical Trackman, for what it's worth — not to be confused with the Logitech Cordless Trackman Wheel or other similarly-named products. It's the best pointing device I've ever used, especially for first-person games like this one. My only complaint is that there's nothing holding the ball in except gravity, so whenever you drop the device, the ball comes out and rolls under the couch.. And unlike in other programs you might use to draw pictures with a mouse, there's no eraser tool and no "undo". If you make a mistake, you have to wipe the whole slate and start over. I've tried hooking up a Wacom tablet 2 "Do you begin to understand the power of the Tablet? Surely it begins to pull you. Its strength grips you. Look around. Without the power of the Tablet, this would be left solely to your dreams." — Esher, Wacom spokesman. for these bits, but it interacts strangely with the game, sending the cursor zooming into corners suddenly. This doesn't happen with that tablet under other applications. But at least the game doesn't ask you to draw shapes more than once. Once you've got a drawing that the Bahro understand, it's automatically saved where you can retrieve it with a click.
Recognizing shapes is one of those things that's traditionally difficult for computers to do, so it's unsurprising that the game can get it wrong. It's generally good at rejecting things that aren't quite right — frustratingly so at times, given the difficulty of drawing. But there was one occasion when I drew a shape completely wrong, and the game decided it was a close-enough match to a different shape, one that looked even less like what I had drawn to a human eye. There may be something going on where the game remembers the last shape you had the opportunity to see and is more lenient about matching it. Usually there's a single order in which you can discover them, but this level was an exception. Later in the same level, I actually managed to skip a puzzle when the Bahro carried the slate to its final destination without being instructed to do so, perhaps as a result of another mistaken match. Whether these two mistakes are connected, I don't know. I played through the level a second time, because I don't like skipping puzzles accidentally, and didn't hit any false positives that time.
| | | |
| --- | --- | --- |
| 1. | ↑ | A Logitech Cordless Optical Trackman, for what it's worth — not to be confused with the Logitech Cordless Trackman Wheel or other similarly-named products. It's the best pointing device I've ever used, especially for first-person games like this one. My only complaint is that there's nothing holding the ball in except gravity, so whenever you drop the device, the ball comes out and rolls under the couch. |
| 2. | ↑ | "Do you begin to understand the power of the Tablet? Surely it begins to pull you. Its strength grips you. Look around. Without the power of the Tablet, this would be left solely to your dreams." — Esher, Wacom spokesman. |