It's taken me a while to admit this, but I think that I'm going to have to do something I've never done before: shelve a main-line DROD title while it's still incomplete. Oh, I'll get back to it. But for now, I'm playing other things, including one thing that I had previously intended to start after beating The Second Sky: Wonderquest, the only known DROD imitation outside of that one room in Frog Fractions 2, the one that looks misleadingly like Nethack. FF2 does that a lot, hiding a game pastiche under the skin of a different game pastiche.
Wonderquest isn't like that. It doesn't hide what it's imitating at all. It's about as blatant an imitation as you can get. You hit orbs to open doors, your initial enemies are roaches which move exactly like DROD roaches, there are roach "spawners" that only differ from DROD roach queens in that their spawn cycle is 24 turns instead of 30. The initial player character even wears the same color of shirt as Beethro. So let me introduce Wonderquest further by describing how it's different from DROD:
Instead of a dungeon, Wonderquest is set in a jungle. It's functionally equivalent to a dungeon, just replacing stone walls with impassable forest. The player characters are from various places on Earth, and have no idea how they wound up there. Instead of a Smitemaster, your initial character is identified as a "Beggar".
It's not nearly as slick as DROD. The tiles are noisy and repetitive. The music and sound effects are low-fidelity. The controls are a little awkward, even after you rebind them to match the DROD keys — holding down a movement key to go faster here results in zooming out of control, and is almost always a bad idea. Movement is animated continuously rather than moving in discrete steps from tile to tile, which probably seemed like an improvement to the designer, but I find it just muddies my understanding of what's going on. The dialogue, revealed entirely by stepping on scrolls, is pretty terrible. The whole thing is a little amateurish, but amateurish in a way that I find a little comforting, hearkening back to a less commercial age of indie game development. Retro, but in a way that doesn't feel like it's doing it on purpose.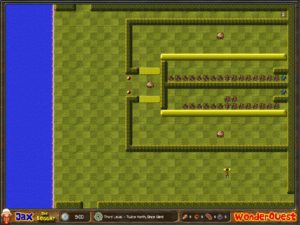 This extends to the puzzles as well, at least in the early stages. Lots of repetitive action, with enemies in quantities that don't make the puzzles harder or more interesting. I suppose it's really no worse than some of the stuff in King Dugan's Dungeon, but even that comes as a shock after playing so much of The Second Sky. For example, here's a puzzle with two chambers, where you have to do exactly the same thing to both chambers. TSS had a number of puzzles that looked like this at first glance, but some slight asymmetry — maybe even just the placement of the entrance — meant that the seemingly-identical parts had to be approached completely differently. Here, there's no such subtlety.
That said, there are ways that it's going beyond DROD, even in the first few levels. As I noted before, Wonderquest had tiles that change your weapon before DROD did, something that's also true of force arrows that can be disabled like doors. Also, there's an element that Wonderquest introduces early on, a rolling ball that moves every turn in the same direction, unless stopped by a wall or redirected by a force arrow, potentially pushing crates or crushing monsters as it rolls, or activating orbs and pressure plates. This gets used a lot, sometimes in large quantities. There are rooms dominated by the balls bouncing around, a flurry of mechanical activity that ignores the player. Balls in isolated tracks are the main thing powering things like time limits and cyclical door-opening. One level in TSS had something similar to balls, rodent monsters called "lemmings" (presumably inspired by the game Lemmings) that move forward, ignoring the player, destroying everything destroyable in their path, but they were never as ubiquitous as the balls are here, or used with such versatility.
As I write this, I've reached a level with giant butterflies that move in knight's-moves, an idea found nowhere in DROD — probably because there isn't a lot you can do with it, puzzle-wise. But Wonderquest has lower standards for its puzzles, and is content with providing multiple rooms where you're simply mobbed by a swarm of the things.
I know there's a great deal more to come. I've played a few levels further than this, years ago, and remember some additional characters, with unique abilities. Also, the main UI has spots for a resource-gathering mechanic that I never played far enough to see. I hope to see it this time around.