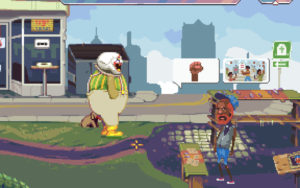 My appetite for indie point-and-click adventures is not yet sated. Dropsy is a cartoony and low-res 2015 game by Jay Tholen, the less-familiar-to-me co-designer of Hypnospace Outlaw, in which you play as a clown. Not just a circus performer who takes off the greasepaint at the end of the performance, but a being that's a clown around the clock, and has queasily non-human traits, like a rubbery flexibility and a never-changing gap-toothed rictus and an apparent complete lack of hands. Unpleasant enough to look at that I put off playing the game for four years. The sort of clown, then, that scares children — which is tragic, because, we learn, all he wants is hugs.
It's worth noting how we learn this: from the UI. Most actions in the game are performed with a single click of a contextual cursor: look at, pick up, talk to, etc. A menu of icons lets you pick just a few other actions, such as picking an inventory item or switching control to your dog. One of these icons is the hug icon. It took me a while to figure out what it did, because it doesn't work on most inanimate objects, but once you apply it successfully to a person you haven't hugged before, you get a little fanfare and a special victory graphic. (The dog gets something similar for each fire hydrant it pees on. This game is not above that sort of humor.) So hugging is one of the game's basic actions, and you're rewarded for doing it. That means it fulfills the same role in the game as shooting in a typical action game. I have no idea how this game was thought up, but it seems like "hugs replace shooting as the main mechanic" is a prompt that could have produced it.
Not everyone is in the mood to be hugged when you first meet them, and attempting to hug someone prematurely will provoke negative reactions. The general solution to this seems to be simple acts of kindness. Ye gods this is a good-natured game. I'm starting to think that Tholen is the main source of the positive vibes I picked up from Hypnospace.
The thing that really impresses me from a design perspective, though, is that it's all done completely wordlessly. The only legible word in the entire game seems to be the title. That's unusual for the point-and-click adventure genre. The only other examples I can think of are the Amanita Design games like Samorost and Machinarium, which are set in strange and alien worlds, and use the lack of a common language to emphasize their unfamiliarity. Dropsy, exaggerated and cartoonish though it is, has a more mundane setting, centered around an ordinary American-looking city with a jazzy soundtrack, and the regions around it. But the absence of verbal communication still has an alienating effect. Characters speak in word balloons containing images, which are sometimes hard to understand — but this seems appropriate, because the clown seems like someone who would have difficulty understanding people. Text on things like signposts is replaced with a system of meaningless squiggles, suggesting that the clown is illiterate, on top of his other challenges.
It all makes him more childlike, his awkwardness in the world a matter for sympathy rather than fear or derision. Considering how horrifying he seemed on first impression, that's a pretty powerful shift. It strikes me that the player character's relationship to the player goes through more or less the same transformation as his relationship to most of the other characters in the game.