It's as true in Wonderquest as anywhere else: On your second or third pass through a portion of a game, you might as well go for 100% completion. In level 8, I was slowed down not just because the puzzles are getting harder, but because I spent so much time looking for the last of the level's secrets.
"Secrets" in this game are collectibles in the form of little trophy icons. I don't yet know if there's any in-game reward for collecting them aside from the mere satisfaction of doing so, but the map screen tells you how many there are on each level (usually three or four) and how many you've found in total (out of a maximum of 60). Some are in plain sight but hard to reach. Some are invisible until you get very close, but these are always clued in some way. (The clue can be as subtle as "There's no obvious reason for that alcove over there to exist", though.) And some are in secret rooms, hidden behind crumbly walls.
Or rather, in most cases, crumbly forest tiles. Walls exist as a distinct tile type, but forest is much more common. Scale in this game is wildly inconsistent, by the way. A forest and a cockroach occupy the same amount of space. Walking the length of your sword takes an hour of game time, and so does turning 45 degrees. And that's fine. It doesn't break the sense of realism because nothing in this game ever produced that expectation.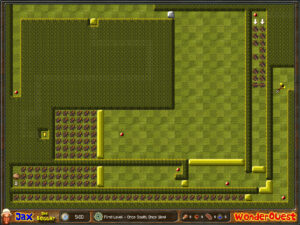 Crumbly forest tiles look very similar to regular ones, but are slightly discolored — just enough for it to be noticeable if you're looking for it, although it's easier to see in large patches. Making secret passages just barely visible like this is a venerable tradition, going back to at least Ultima IV, where normal walls and secret doors differed by one pixel. This was noticeable because pixels were much larger in those days. And of course DROD, Wonderquest's immediate forebear, also had hard-to-spot crumbly walls, although it also had a much easier-to-spot version, for puzzles that use crumbly walls for something other than hiding the path to a secret, and I think the easier-to-see version was used preferentially anyway as the series came to rely less on hiding information.
Now, level 8 of Wonderquest does something novel with the idea of crumbly walls: it starts making other things crumbly. Like crumbly force arrows, or even a crumbly character-change token. At first I thought it wasn't playing fair, just throwing on behaviors that couldn't be discerned from the appearance of the tiles, but on looking closely, I could see a spray of grayish pixels overlaid on these objects, like a crumbliness aura. And in fact if you look more closely with an image editor, the pixels are not just gray but gray-green. It seems that this is what causes the "discolored" appearance in its more usual context, the forest tiles. So "crumbly walls" aren't really a distinct thing in this game. There's just walls and crumbliness existing in the same place.