The Chronicles of Riddick: Escape from Butcher Bay has an overall pattern of failing and starting over. I don't mean at the level of gameplay — sure, yes, the player repeatedly dies and restarts from the last checkpoint, but that's hardly uncommon in games. I'm talking about the story. Each chapter has Riddick coming within a whisker of freedom, only to be caught at the last moment and thrown into an even deeper pit, resetting his quests and inventory and forcing him to come up with a new plan. It's never very convincing when this happens. Why is Riddick suddenly surrendering to the guards when he's already come through worse just to get that far? But we accept it in the same way as we accept the difference between combat deaths and cutscene deaths in a JRPG. Which is to say, we don't really have a choice.
The first iteration of the cycle is the tutorial level, a sequence in which the security of the prison is oddly lax, and Riddick manages to make a break for some sewer tunnels to freedom before he's even been shown to his cell. This turns out to be just an Owl Creek Bridge scenario, a dream he's having on the way to the real prison, but it's extremely similar to the real place once he gets there. Chosen One prophetic dreaming, or has he just been there before?
The last iteration — at least, I assume it's the last — comes when the authorities finally get fed up with Riddick inciting riots and letting loose alien monsters and the like and ship him off to Butcher Bay, where he supposedly won't be able to cause trouble. This surprised me, because I had assumed that we had been in Butcher Bay from the very start. 1[UPDATE] On review, it turns out that I'm wrong about this. There's a very clear sign indicating that your are entering Butcher Bay Correctional Facility when you first arrive at the beginning of the game. I'm not sure why I thought otherwise. Perhaps I misheard some dialogue about sending Riddick back to Butcher Bay when he's recaptured for the last time. The game isn't very good at communicating details like that to the player. (To give another example: at one point, an inmate asked me to retrieve an item that had fallen into the hands of the PPPs. Who are the PPPs? All I was told was that there were a couple of them hanging out in exercise yard A. In exercise yard A, there were two prisoners and two guards. The designers probably didn't even consider that it would be unclear which of these pairs was wanted.)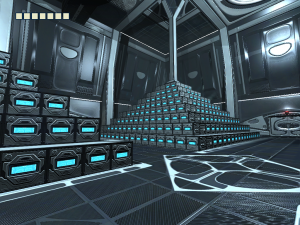 Once you're in Butcher's Bay, though, it's very clear that it's a different place. The whole style changes. Instead of dirty concrete and corroded metal, it's all gleaming and sterile, with a greater emphasis on automation and robots. That's because it's not a very human sort of prison. It lacks human touches like the hate, vindictiveness and power games seen in the earlier sections, because these are all things requiring social interaction. The whole idea behind this place is that the prisoners are kept in cryosleep most of the time. There are periodic legally-mandated two-minute "exercise" sessions, time spent awake but alone in a doorless room. At all other times, prisoners are stored in little coffin-like boxes, stacked in pyramids in a sort of warehouse. It's incarceration taken to its logical extreme, with dreamlike exaggeration.
Dreamlike? I don't think we've taken another detour to Owl Creek Bridge (although it does seem once again oddly easy to escape into the works). Rather, I think this place plays the role of the dream-realm to a shaman. It's Riddick's otherworld, a place only accessible to him, where he sees the logic behind the world laid bare. This is the place in his Heroic Journey where he's supposed to gain treasures and learn the lessons that he brings back to teach mankind on returning to the normal world. I'll probably come back to this once I've actually finished the game. For the moment, I just want to ask: what does he gain from this experience?
Not a lot, as far as I can tell. He's already got his magical powers by this point, his eyeshine and his berserker rage. And look at what happens afterwards. This whole game is a prequel to the movie Pitch Black. At the beginning of that, he's being transported back to prison. So he executes his miraculous escape, but it's back to status quo soon after. To the extent that this game is capable of ending in triumph, it's because it ends before the grand cycle comes around to failure again. The game could have ended in the previous chapter, with Riddick boarding the last shuttle off the planet (and before we find out why it doesn't take off), and it would be exactly as valid a victory.
It reminds me of something: back when the Lord of the Rings movies were coming out, along with their tie-in games, I had an idea for a game starring Gollum. Like Riddick, he's an antihero who can see in the dark, and thus a natural fit for a stealth game — I imagined it involving a lot of leaping onto orcs' backs and strangling them, especially in the early "Escape from Mordor" levels. And in the end? Well, he'd finally achieve his ultimate goal of getting his precious back. I imagined a final shot of him gleefully capering with his prize on a ledge over the fires of Mount Doom. Freeze frame, roll credits. Happy ending.
| | | |
| --- | --- | --- |
| 1. | ↑ | [UPDATE] On review, it turns out that I'm wrong about this. There's a very clear sign indicating that your are entering Butcher Bay Correctional Facility when you first arrive at the beginning of the game. I'm not sure why I thought otherwise. Perhaps I misheard some dialogue about sending Riddick back to Butcher Bay when he's recaptured for the last time. |